Product Detail
Product Tags
Specifications of alloy A286 pipe:
Pipes & Tubes Size : 1 / 8″ NB – 12″ NB
A286 AISI 660 Pipe Specification: A-286 Stainless Steel Alloy, UNS S66286, A-286 Stainless, Alloy A-286 Stainless Steel, A-286 Alloy, Grade 660, ASTM A638 (VO1.03), A453 (VO1.01), 660B
A286 Stainless Steel Pipe Other Trade Name:  Inconel 660 | NAS 660 | Alloy A286 | UNS S66286 | A-286 Alloy | Heat Resistant Alloys
Surface: Polished, AP (Annealed & Pickled), BA (Bright & Annealed), MF
Techniques: Hot-rolled, cold-drawn
Length :5.8M,6M,12M & Required Length
Outer Diameter : 6.00 mm OD up to 914.4 mm OD
Thickness : 0.6 mm to 12.7 mm
Schedule : SCH. 5, 10, 20, 30, 40, 60, 80, 100, 120, 140, 160, XXS
Types : Seamless or Welded Pipes
Form : Round, Square, Rectangle, Hydraulic, Honed Tubes
End : Plain End, Beveled End, Treaded
Incoloy A286 pipe tube Equivalent Grades:
| | | |
| --- | --- | --- |
| UNS | WERKSTOFF NR. | TRADEMARK |
| UNS S66286 | 1.4980 | A286 |
Incoloy A286 Pipes Chemical Composition and Mechanical properties:
Grade

%

Ni

Cr

Mo

B

P

Al

Ti

C

Mn

Si

V

S

Fe

A-286

Min

24

13.5

1.0

0.001

 

 

1.75

 

 

 

0.10

 

Bal.

Max

27

16

1.5

0.01

0.03

0.40

2.35

0.08

2.0

1.0

0.50

0.02
Density

Melting Range

Tensile Strength
σb/MPa
Yield Strength
σp0.2/MPa
Elongation
σ5 /%

 7.92 g/cm3

1370-1430℃

610

270

30
Features:
Incoloy A-286 is an age-hardenable alloy which can withstand oxidation and retain good strength at temperatures up to about 700℃. It can be readily formed by standard processes for stainless steels and nickel alloys.
Why Choose Us :
1. You can get the perfect material according to your requirement at the least possible price.
2. We also offer Reworks, FOB, CFR, CIF, and door to door delivery prices. We suggest you to do deal for shipping which will be quite economical.
3. The materials we provide are completely verifiable, right from raw material test certificate to the final dimensional statement.(Reports will show on requirement)
4. e guarantee to give a response within 24hours(usually in the same hour)
5. You can get stock alternatives, mill deliveries with minimizing manufacturing time.
6. We are fully dedicated to our customers. If it will not possible to meet your requirements after examining all options, we will not mislead you by making false promises which will create good customer relations.
Quality Assurance (including both Destructive and Non-Destructive) :
1. Visual Dimension Test
2. Mechanical examining like tensile, Elongation and reduction of area.
3. Large-scale test
4. Chemical examination analysis
5. Hardness test
6. Pitting protection test
7. Flaring Testing
8. Water-Jet Test
9. Penetrant Test
10. X-ray test
11. Intergranular Corrosion Testing
12. Impact analysis
13. Eddy current examining
14. Hydrostatic analysis
15. Metallography Experimental Test
Packaging:
1. Packing is quite important especially in a case of international shipments in which consignment pass through various channels to reach the ultimate destination, so we put special concern regarding packaging.
2. Sasa alloy's pack our goods in numerous ways based on the products. We pack our products in multiple ways, such as,
Shrink-wrapped
Carton boxes
Wooden pallets
Wooden boxes
Wooden crates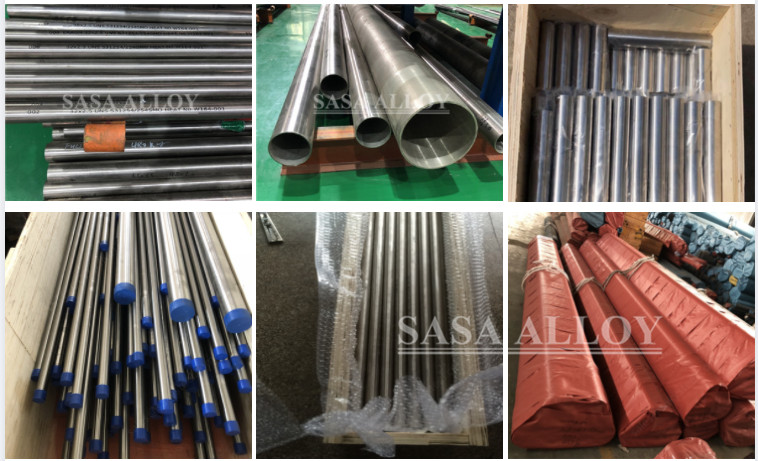 Applications:
Aircraft and industrial gas turbine components that are subject to high levels of heat and stress at service temperatures up to 700℃ such as turbine wheels and blades, frames, superchargers and afterburner parts. It is also used in fasteners of automotive engines.
Other types of  Stainless Steel A286 Seamless & Welded Pipe:
A286 AISI 660 Seamless Pipe

Stainless Steel A286 Bush Hex Pipe

Stainless Steel A286 Hollow Pipe Price

A286 Alloy Round Pipe

Stainless Steel A286 Custom Pipe

Stainless Steel A286 Round Pipe Price

A-286 Stainless Steel Thick Wall Pipe

A286 Alloy Thick Wall Pipe

A286 AISI 660 flex pipe supplier

A-286 Stainless Steel Alloy Polished Pipe

A-286 Stainless Steel Alloy Custom Pipe

SCH40 Stainless Steel A286 pipe

A286 Alloy Thin Wall Pipe

ASTM Incoloy Alloy A-286 Seamless Pipe

Stainless Steel A286 Thin Wall Pipe

ASTM Incoloy Alloy A-286 Round Pipe

ASTM Incoloy Alloy A-286 Custom Pipe

A286 AISI 660 Welded Pipe stockist

ASTM Incoloy Alloy A-286 Thin Wall Pipe

UNS S66286 Stainless Steel A286 Round Pipe

ASTM Incoloy Alloy A-286 Thick Wall Pipe

UNS Stainless Steel Grade A286 welded pipe

UNS S66286 A-286 Stainless Steel lined pipe

UNS S66286 Stainless Steel A286 clad pipe
---
Previous:
incoloy 800
Next:
Hastelloy B-2
---